For lovers of nature and wine, the South African winelands has plenty to offer. This Heritage Month, celebrate the magnificence of the natural heritage that is the Cape Floral Kingdom with these interesting fynbos and wine pairings and other fynbos-related attractions.
Take a look at our list of nine uniquely South African fynbos and wine pairings:
Delheim wine and fynbos cupcake pairing
Inspired by the Cape Floral Kingdom, this wine and fynbos cupcake pairing truly showcases the excellence of Delheim's wines. The offering includes four fynbos-infused cupcakes paired with four wines: the fynbos honey cupcake with the Delheim Merlot; the honeybush cupcake with the Delheim Chardonnay Sur Lie; the buchu cupcake with the Delheim Gewurztraminer; and the rooibos cupcake with the Delheim Pinotage.
Where: Delheim Wine Estate, Stellenbosch
Times: Friday - Tuesday: 11h00 & 15h00
Cost: R150 pp
Click HERE to book your tasting.
Bartinney wine and fynbos pairing experience
Sustainability superheroes Bartinney's wine and fynbos pairing experience is an innovative tasting of their three estate wines alongside fynbos grown on the farm. The multi-sensory tasting incorporates touch, smell, sight, and taste. It changes your perceptions of the wines and highlights the estate's ongoing commitment to conserving the unique Cape biodiversity.
Where: Bartinney Tasting Shed, Stellenbosch
Times: Monday - Friday: 10h00 - 17h00
Cost: R110 pp
Booking is essential. To book, email tastingshed@bartinney.co.za.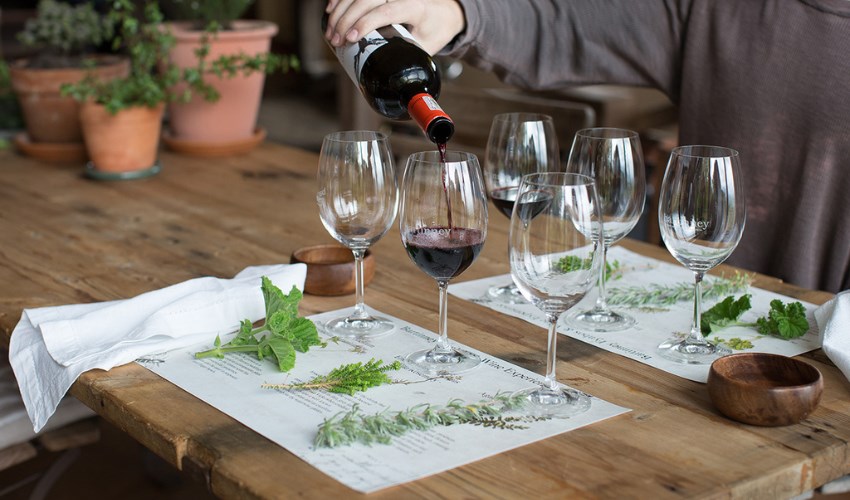 Fynbos and wine walk at Idiom
Idiom's Da Capo Vineyards is situated within the Cape's biosphere and the garden celebrates some of the beautiful indigenous flora of the area. Guests to the Idiom estate are offered a unique experience to explore the scents of indigenous fynbos on a Fynbos Walk. Expect fynbos plants like khoigoed, dune salvia, honeybush, sour fig, and snowbush. This is followed by a tasting of the Idiom Cape Blend, an opulent wine made with the Cape's own Pinotage blended with noble varieties.
Where: Idiom Wines, Somerset West
Times: Monday - Sunday: 09h30 - 16h30
For more details, click HERE.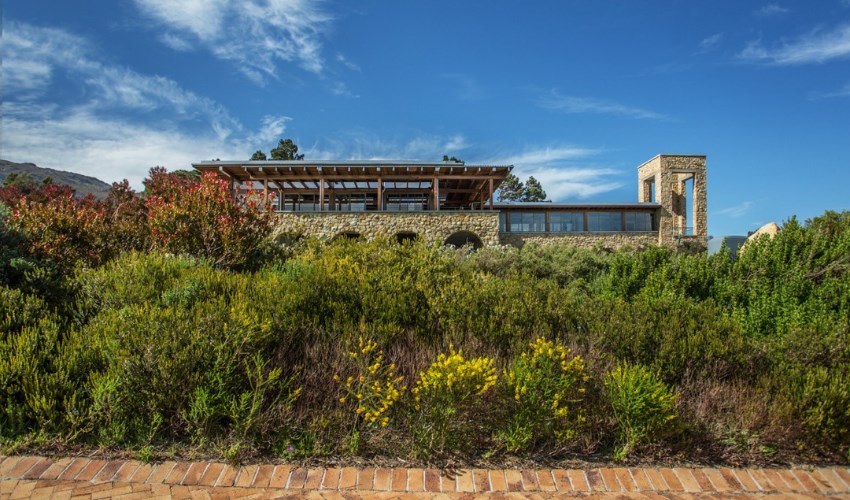 Fynbos mignonette oyster and wine pairing at Cavalli
The oysters and wine pairing at Cavalli Estate is an unforgettable experience that harmonises gourmet oysters with the artistry of Cavalli wines. One of the highlights of the pairing is the fynbos mignonette oyster expertly paired with the Cremello white blend, which consists of Chenin blanc, Chardonnay, Verdelho, and Viognier. On a sunny day you can enjoy the pairing outside on the tasting terrace overlooking Cavalli's indigenous garden filled with rare fynbos species.
Where: Cavalli Estate, Somerset West
Times: Wednesday - Sunday: 10h00 - 18h00
Cost: R250 pp
For more information, click HERE.
Wine and fynbos tour at GlenWood Vineyards
Take a leisurely hike through the masses of indigenous fynbos on the way up to Nature's Window, GlenWood Vineyards' tasting room in the mountain above the winery. The walk takes approximately twenty minutes and ascends some 70 meters. Alternatively, you can request a 4x4 ride to Nature's Window. This tour includes a visit to the vineyards and plantings of king proteas, blushing brides, and pincushions. Once you reach Nature's Window, you'll get to enjoy a wine tasting with a view.
Where: GlenWood Vineyards, Franschhoek
Times: Daily at 11h00 and 14h00
Cost: From R400 pp
For more info and reservations, click HERE.
Taste the Iona Single Vineyard Fynbos Chardonnay
Iona's premium single-vineyard wines portray the unique varying micro climates and soil types of Iona wine estate in the Elgin Highlands. The Fynbos Vineyard has well drained soils that are rich in clay that result in a gorgeous, fleshy, generous wine. Nuanced and multi-layered, this vineyard produces Chardonnay with weight and depth. Visit the Iona tasting room to experience the wine for yourself.
Where: Iona Wine Farm, Elgin
Times: Monday - Friday: 09h00 - 16h30; Saturdays: By appointment
For more information, visit their website: www.iona.co.za
Fynbos walk at Bouchard Finlayson
A WWF Conservation Champion, Bouchard Finlayson is an active custodian of the 100 hectares of indigenous fynbos surrounding their vineyards and cellar. Visitors are invited to discover these beautiful fynbos-clad hills with the Frank Woodvine Fynbos Walk trail that traverses the estate. An easy trail, the walk can vary in distance and take anything from 45 minutes to two and a half hours. Bonus: Dogs on leashes are welcome!
Where: Bouchard Finlayson, Hemel-en-Aarde, Hermanus
Times: Daily: 09h00 - 16h00
Cost: R50 pp
To book, contact Bouchard Finlayson at info@bouchardfinlayson.co.za or 028 312 3515.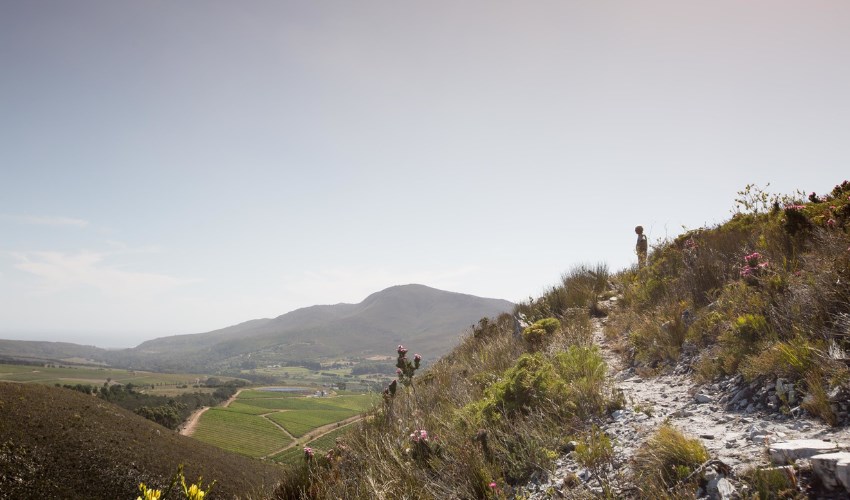 Rooibos and wine pairing at Klawer Cellars
Did you know that South Africa's famous rooibos plant can only be found in the Cederberg? To make the most of this special regional produce, Klawer Wine Cellars is combining it with what they do best: wine. The rooibos product pairing includes combinations like Chardonnay and a skuinskoek with rooibos jam; Chenin Blanc and rooibos fudge; Pinotage and a rooibos biscotti; and the Cabernet Sauvignon with rooibos soya sauce and cheddar.
Where: Klawer Wine Cellar, Klawer
Times: Monday - Friday: 09h00 - 16h00; Saturday: 10h00 - 12h00
Cost: R50 pp
To book a tasting, click HERE.
De Tol wine, rooibos tea and nibble pairing
De Tol, probably the oldest farm stall on the N7, is the tasting room for all Piekenierskloof wines and Carmién rooibos teas. The deli offers coffee, roosterkoek, fresh farm produce, and much more. Among this exciting variety of experiences is the wine, rooibos tea and nibble pairing. This proudly South African pairing consists of four Piekenierskloof wines, four Carmién rooibos teas, and four savoury nibbles. Remember to grab a bunch of indigenous flowers before you leave!
Where: De Tol Farm Deli, Piekenierskloof, Citrusdal
Times: Monday - Saturday: 08h00 - 17h00; Sunday: 08h00 - 15h00
Cost: R150 pp
For reservations, contact the deli at 067 410 3315 or detol@pkwc.co.za.