Picture this: a bottle of incredible local wine, a sunset over the vineyards and the love of your life by your side.
Quality time away with your partner probably doesn't happen often, so when it does, make sure it's a memorable experience. That's why we've rounded up some of the most romantic and unique getaways across 20 different wine routes in South Africa.
Whether it's for your honeymoon, anniversary, proposal or just some time away to reconnect, you'll find something special to suit your budget and taste.
1. Copia Eco Cabins, Bot River Wine Route
For an unforgettable stay in an up-cycled shipping container, hit the gravel road for a weekend at Copia (Latin for 'abundance'). Three containers have been completely transformed into trendy eco-cabins, featuring contemporary design and panoramic views of the Overberg. With poor cellphone reception, solar powered electricity and no WiFi, you will literally disconnect from the world to unwind completely.
Amenities: Bedroom, bathroom, open plan living room, kitchen, barbeque, fireplace, bathroom, patio, wood-fired hot tub.
Closest wine farm: Beaumont Family Wines
Click HERE for more info.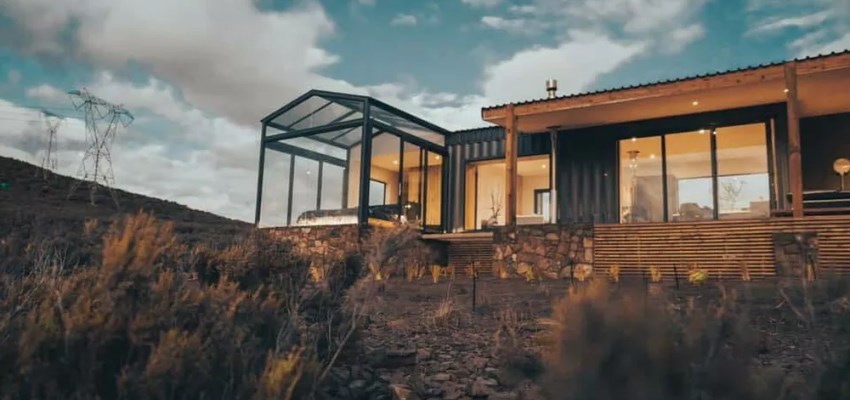 2. Cabine du Cap Main Cabin, Klein Karoo Wine Route
Treat yourself to an indulgent off-the-grid stay at this Klein Karoo gem. The fully-serviced cabin ensures that you can kick back and relax, whilst you immerse yourself in the serenity of nature. The outdoor tin bath, quality linen, large deck with beautiful views and special touches create a five-star getaway.
Amenities: Kitchen (with luxuries like a Nespresso machine), lounge, undercover deck with views, fireplace, outdoor tin bath, Africology toiletries, breakfast included.
Closest wine farm: Ashton Winery
Click HERE for more info.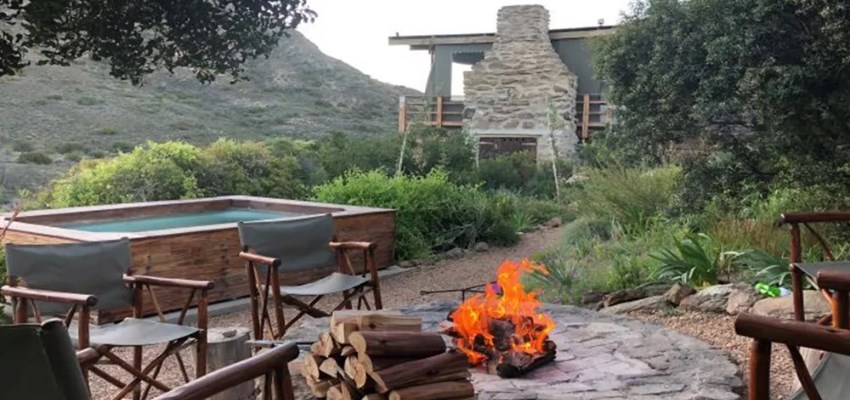 3. Creation Voormanshuis, Hemel-en-Aarde
If you appreciate carefully considered architecture, you will be in awe of Voormanshuis. The chic house has been designed to allow the surrounding Pinot Noir vineyards to feature all around you. There are large modern glass panels in the front, a viewing deck, and you even have vine-views from the shower. The furniture and decor are eclectic South African giving you that boutique hotel feel…except that you have the whole place to yourself.
Amenities: Bedroom, bathroom, kitchen, barbeque, deck, open plan living room.
Closest wine farm: Creation Wines (walking distance)
Click HERE for more info.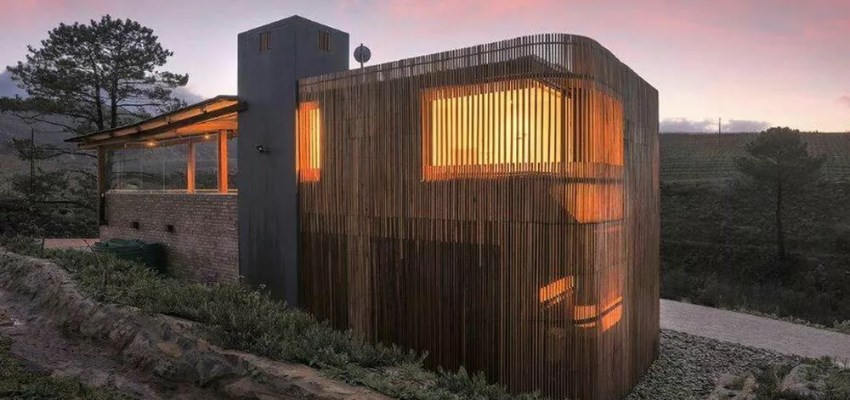 4. The Valley Suite at 7 Koppies Guest Suites, Franschhoek Wine Valley
A stylish country-life escape awaits at this beautifully restored farmhouse perched on a hill outside Franschhoek. The natural brick, wood and stone finishes compliments the earthy atmosphere of the 50-hectare private fynbos nature reserve on which the house is built. There are five exclusive guest rooms, with The Valley Suite being the premier option for a romantic stay. A pristine property to add to your romantic bucket list.
Amenities: Swimming pool with beautiful views, en suite rooms, breakfast included.
Closest wine farm: Lynx Wines
Click HERE for more info.
5. Emily Moon River Lodge, Plettenberg Bay Winelands
Book a luxurious suite at this eccentric boutique lodge with loads of character. Emily Moon has serene views of the wetlands and the Bitou river, but what makes this place unique, is the décor. Around every corner you will find a collector's item – various treasures that the family has brought home from all over Africa and Asia. There are sixteen cottage-suites to choose from, but for a special treat, book one of the larger Deluxe Suites with incredible vistas.
Amenities: En suite rooms, private lounge, private bar station, balcony, bath tub with views, breakfast included, access to two restaurants and entertainment offerings.
Closest wine farm: Andersons Winery
Click HERE for more info.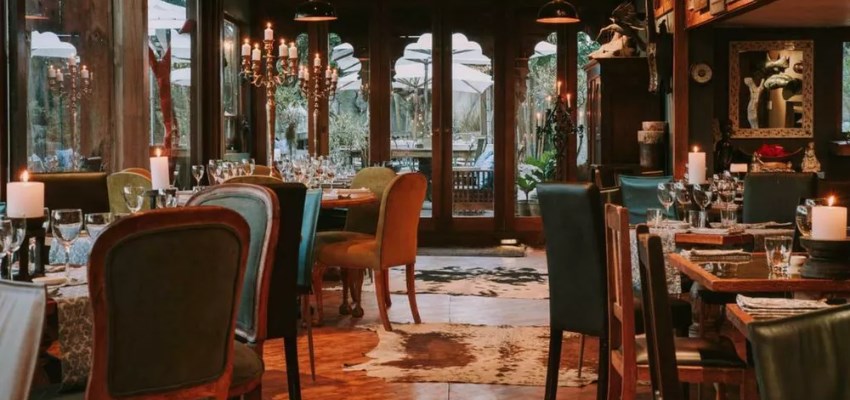 6. Hope Cottage, Constantia Wine Route
Constantia is synonymous with lush gardens, tree-lined streets, vineyards snaking through the suburbs and an A-list of restaurants. Hope Cottage is perfectly located in the middle of it all. The building, that is over 170 years old, has been restored with immense style and opulent touches, allowing a comfortable and charming stay.
Amenities: Two bedrooms, two bathrooms, kitchenette, lounge and barbeque. Tennis and swimming can be arranged on request.
Closest wine farm: Buitenverwachting
Click HERE for more info.
7. Kalmoesfontein Farm Cottage, Swartland Wine and Olive Route
When you're booking includes free range farm eggs, homemade rusks, farm baked bread and locally sourced beauty products, you know you're in for something special. The five cottages on A.A Badenhorst wine farm are a refreshing hybrid between humble hospitality and minimalistic spoils. Kick off your shoes for swims in the farm dam, take in some fresh air and go for a sunset stroll.
Amenities: Kitchen, barbeque, vegetable garden, plunge pool, hammocks.
Closest wine farm: A.A. Badenhorst Family Wines
Click HERE for more info.
8. Skuur at Bosjes, Breedekloof Wine Valley
Bosjes is best known for its awe-inspiring chapel: an architectural masterpiece in the Breedekloof Valley. The iconic venue has however evolved into a multi-faceted destination, hosting a restaurant, tea garden, landscaped gardens, walking trails, farm experiences and accommodation. The old farmhouse is now a beautiful guesthouse with grand suites designed with a simplistic, modern approach. Go for the honeymoon suite with stunning views, a bath tub and a private fireplace. Guests can taste the bespoke range of Bosjes wines all sourced from local estates.
Amenities: En suite bedroom, communal swimming pool with loungers, fireplace, Charlotte Rhys toiletries.
Closest wine farm: Waboomsrivier Wine Cellar
Click HERE for more info.
9. South Hill Pumphouse, Elgin Valley Wine Route
Aside from their bigger guest house, South Hill also has a secluded honeymoon cottage on the property called, the Pumphouse. One of its nicest features is the private indoor courtyard where you and your partner can enjoy the jacuzzi, lie on the hammocks and use the braai facilities. The views over the vineyards, mountains and dam sets completes the set-up for a tranquil escape.
Amenities: En suite bedroom, lounge, kitchenette, pot belly fireplace, jacuzzi, barbeque, hammock, access to restaurant and art gallery.
Closest wine farm: South Hill (walking distance)
Click HERE for more info.
10. Vindoux Tree Houses, Tulbagh Wine Route
For something a little different, book a stay in a luxury tree house. The quirky wooden cottages are built on stilts, elevating you to feel like you are sleeping amongst the trees. Each treehouse is secluded and offers different angle balcony views: either of the game farm, orchards or mountains. They specialise in honeymoons, so you can expect romantic gestures and comfortable white gowns.
Amenities: En suite bedroom, spa bath, balcony, coffee making facilities, breakfast included, access to the Farm Kitchen restaurant and Vindoux Day Spa.
Closest wine farm: Saronsberg Wine Cellar
Click HERE for more info.
11. Fynbos Cottages at Babylonstoren, Paarl Wine Route
For a while Babylonstoren only offered hotel accommodation, so their new private cottages are a great addition for guests looking for a more private escape. The beautiful white buildings are a modern take on Cape Dutch architecture with minimalistic decor, seamlessly fitting into the surrounding aesthetics. The cottages are open plan with spacious bathrooms and a private patio overlooking the dam.
Amenities: En suite bedroom, fireplace, small lounge, kitchen, patio, bookshelf with contemporary selection of reading material.
Closest wine farm: Babylonstoren (walking distance)
Click HERE for more info.
12. Haes Farm, Stanford Wine Route
Return to nature by settling into a designer house on a 40-hectare lifestyle fynbos farm. Everything Haes Farm offers are sustainable, off the grid, recycled and responsible; but that doesn't mean it's rustic. In fact, everything from the architecture to the furniture, art and books are carefully curated. The beautiful views can be appreciated from almost anywhere in the house and from the large covered patio.
Amenities: Two bedrooms, bathroom, Africology toiletries, covered terrace, barbeque, loungers with umbrellas, library of international books, underfloor heating, fireplace.
Closest wine farm: Raka Wines
Click HERE for more info.
13. Fynbos Suites at Farm 215, Agulhas Wine Route
A picture-perfect place for an intimate nature retreat, away from the hustles of life. There are three similar wooden cottages lined up in a row, but separate enough to ensure a private stay. The front of your cabin is completely made of glass, allowing you to take in the fabulous fynbos from all angles.
Amenities: Open plan cottage, bedroom, bathroom with views, lounge, private terrace with loungers, communal swimming pool.
Closest wine farm: Lomond Wine Estate
Click HERE for more info.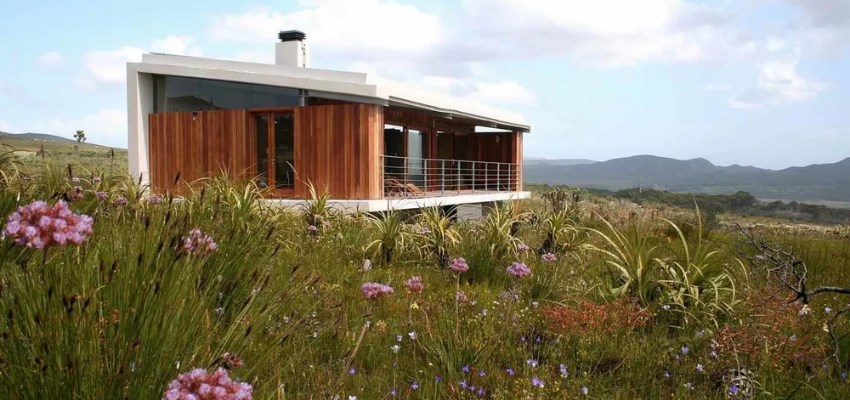 14. Luxury Cottages at Indigo Fields, Midlands Meander Route
Hidden in the hills of the KwaZulu-Natal Midlands, Indigo Fields is a magical place. Book into one of their suites to make the most of their on-site offerings, like their serene spa (with outdoor treatments) and bespoke food experiences offered by the restaurant. They have individually themed suites to choose from, but we'll recommend reserving one of The Snuggery luxury cottages with its own private jacuzzi.
Amenities: Two bedrooms, bathroom, open plan living area, jacuzzi with deck and loungers, kitchen, access to restaurant and spa.
Closest wine farm: Highgate Wine Estate
Click HERE for more info.
15. The Loft at Bartinney Vineyards, Stellenbosch Wine Routes
With high ceilings and exposed beams, The Loft is created in a classic farmhouse-style. It's simplistic but elegant, with everything you might need to wind down. It's the ideal set-up to help you enjoy the simple things in life – go for a walk in the vineyards, take that nap, make your own meal or hide behind a book.
Amenities: Bedroom, full bathroom, WiFi, DSTV satellite TV, Netflix, kitchen, open place living and dining room.
Closest wine farm: Bartinney (walking distance)
Click HERE for more info.
16. Fossil Hills Cottage, Robertson Wine Valley
Fossil Hills has a range of accommodation on a working family farm that has been producing wine and fruit for three generations. To get a taste of the slow life, make yourself at home on the front porch of the rustic stone house, the Fossil Hills Cottage. Enjoy the birdlife, go for a hike, take your fishing rod or cycle around the gravel roads. You also have your own outdoor hot tub that creates a dreamy atmosphere.
Amenities: Two bedrooms, bathroom, indoor and outdoor fireplace, hot tub, bicycles, kayaks.
Closest wine farm: Lords Wines
Click HERE for more info.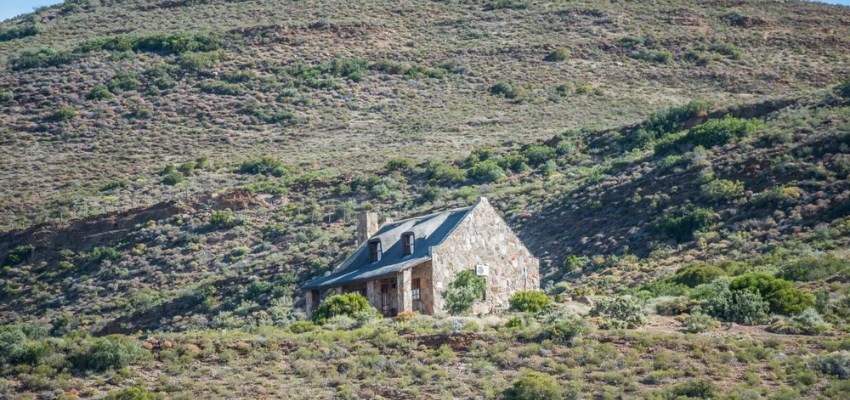 17. Gert Boom Cottage at Papkuilsfontein Guest Farm, Namaqua West Coast Wine Route
For the more adventurous at heart, go off the beaten track to experience authentic tranquility at Papkuilsfontein. The guest farm plays host to stone cottages that have been carefully restored to offer a comfortable stay. The highlight of this area, is the world-renowned floral kingdom that is best witnessed during Spring. Throughout the year, you can also experience the unique birdlife, San rock art, natural rock pools, a waterfall and many hiking trails.
Amenities: Two bedrooms, two bathrooms, kitchen, fireplace, barbeque, outdoor dining area, lounge, hammock, plunge pool.
Closest wine farm: Klawer Wine Cellars
Click HERE for more info.
18. Grand Dédale Cottage, Wellington Wine Route
Surprise your partner with a sophisticated weekend at this historic thatched stone cottage. Grand Dédale is the epitome of classic style: chandeliers, wooden furniture, heavy curtains and fresh roses to welcome you. Their romantic cottage is separate from the main guest house, to offer a more remote abode. Enjoy the small luxuries like heated towel rails, quality linen, velour bathrobes and a jet bath.
Amenities: Bedroom, two bathrooms, private minibar, satellite TV, private patio overlooking the horses and forest, access to the restaurant and various entertainment facilities.
Closest wine farm: Doolhof Wines
Click HERE for more info.
19. Pepper Tree Cottage at Penhill Estate, Worcester Wine and Olive Route
Although Penhill Estate is popularly known as a private holiday venue for large groups, their cottages can be rented separately too. And if you get the chance, do so. Their barefoot luxury offering is unlike anything you've experienced before – an exclusive setting in the rugged Nuy Valley. Pepper Tree Cottage is the most secluded option of the lot, and has its own plunge pool.
Amenities: Two en suite bedrooms, kitchen, dining room, lounge, wood-burning stove, satellite TV, WiFi, sound system, plunge pool and access to the estate's entertainment offerings, including a tennis court.
Closest wine farm: Nuy Winery
Click HERE for more info.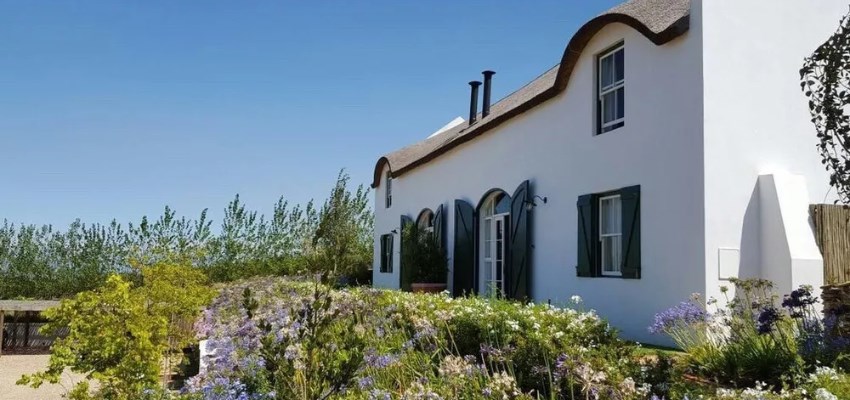 20. The Olive Tree Villa, Darling Wine Route
What a great combination: sea and Sauvignon. Yzerfontein is a stone's throw away from the Darling Wine Route and a great beach town to use as your base. Stay in The Olive Tree Villa offering ultra-luxurious suites right on the beach-front. All the suites are open plan with panoramic views, but the Premium Suite is the biggest and has additional extravagant features for that special occasion.
Amenities: Bedroom, bathroom, quality linen, fireplace, barbeque, kitchen, heated pool, WiFi, Netflix and Showmax, direct access to the beach.
Closest wine farm: Ormonde
Click HERE for more.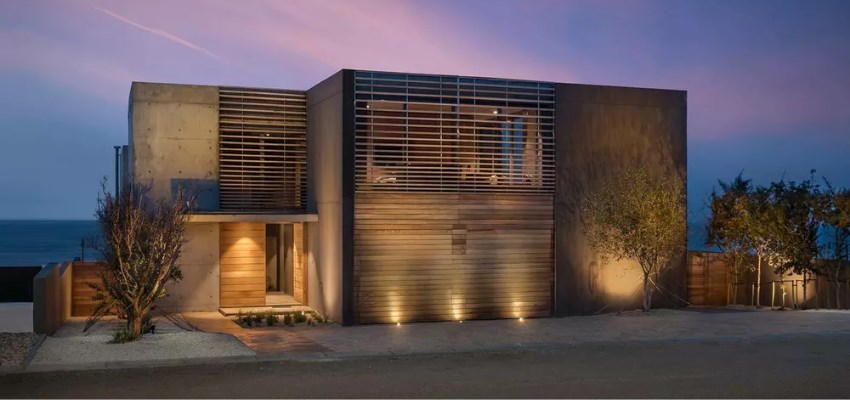 This article was originally published on Wines of South Africa's Visit Winelands blog.