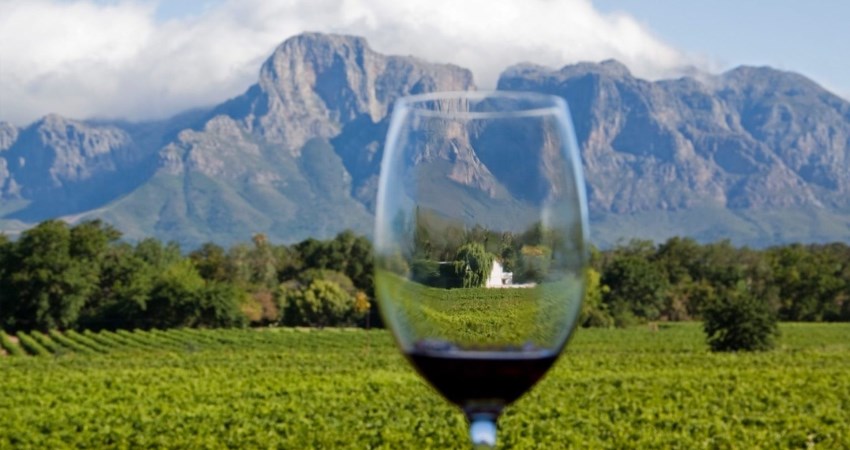 South African red wines are not only loved locally, but also strong favourites internationally. The four most popular cultivars are Cabernet Sauvignon, Merlot, Pinotage, and Shiraz. Each of these cultivars has a special day when wine lovers can celebrate their favourite red and annual competitions to honour the country's best.
The total South African hectares under vineyards at the end of 2022 were 89 384 hectares of which 10.6% is Cabernet Sauvignon, 10% Shiraz, 7.4% Pinotage, and 5.9% Merlot.
According to the latest statics from SAWIS from January to May 2023, 2 481 160 litres of Merlot, 2 141 165 litres of Cabernet Sauvignon, 1 838 926 litres of Pinotage and 1 804 388 litres of Shiraz were sold nationally. In the same period, 6 689 665 litres of Shiraz, 6 033 019 litres of Pinotage, 5 355 416 litres of Cabernet Sauvignon and 3 434 020 litres of Merlot were exported.
According to the Old Vine Project (OVP) there are 24 ha Merlot of which the oldest block was planted in 1975; 30 ha of Shiraz with the oldest block planted in 1976; 132 ha of Pinotage of which the oldest block was planted in 1950, and 51 ha Cabernet Sauvignon (oldest block 1974).
The OVP is the only certification project of its kind in the world and boasts a Certified Heritage Vineyards seal that members can affix to their wines' bottle necks. The OVP aims to learn from vineyards that have already survived more than a century about how to farm in the future, to try to survive climate shocks. The OVP was officially established in 2016.
Merlot
International Merlot Day is celebrated on 7 November. It honours the victory of this popular single varietal which was for many years only known as a popular component in Bordeaux blends.
Overgaauw bottled South Africa's first single variety Merlot and today it is still a big segment of production. David van Velden, the fourth-generation winemaker, says when his father, Braam, discovered that the Merlot vines he had planted in 1973 were infected with leafroll virus, he went looking for healthy, virus-free vines. After an extensive search, he found new Italian clone Merlot vines and planted them in 1979.
"Our first vintage from this block was in 1982. The wine was so impressive that we deemed it worthy of being bottled on its own. It also prompted us to extend the wine's time in the small oak barrels to nine months, which was a long time in those days."
When the Merlot was bottled in 1983, it was the first single variety South African Merlot on the market. There were many raised eyebrows: "My dad says he remembers being asked why we bottle a blended wine on its own."
David says if Merlot is treated right from the start, the cultivar can exceed all expectations.
Mike Woodhead from Le Bonheur was another Merlot pioneer of the eighties and has some of the oldest Sauvignon blanc, Merlot, and Cabernet Sauvignon vineyards in the country.
He planted a block of Merlot in 1984 and this is the main component of the estate's Stellenbosch Prima, a Bordeaux blend, with Merlot as the largest component.
As the statistics prove, Merlot is the most drunk red wine in South Africa.The Merlot grape has also grown in popularity among Cape winegrowers by leaps and bounds over the past 40 years. In 1982, the country had a mere 81ha of Merlot, says Dawie Botha, chairman of the Merlot Forum and winemaker at Anthonij Rupert Wyne.
"In addition to the increase in Merlot plantings, winemakers are seeing how Merlot expresses the unique geographical identity of the South African wine landscape, giving the varietal's attractive drinkability a true fingerprint of Cape terroir," says Dawie.
"Merlot is usually the faithful partner for Cabernet Sauvignon and/or Cabernet Franc but can also easily stand its own ground on its own. Merlot can be made in different styles and also varies from wine region to wine region, from full and concentrated, to a soft fruity drinking wine."
He says South African Merlot is characterised by its elegant red fruit flavours (blackberry, blueberry, red cherry, strawberry, and so on) and a juicy, satiny mouthfeel with refined tannins. "Depending on the type of wood used in aging, it can also include some of the wood flavours (mild black pepper, roasted or smoked flavours)."
The 2023 Hallo Merlot Top 10 winners (and therefore some of the best Merlot in South Africa) are Bein Merlot 2020, Carmen Stevens Merlot 2021, De Grendel Merlot 2019, Holden Manz Merlot Reserve 2019, Nabygelegen Merlot 2022, Nilberg Merlot Reserve 2018, Rainbow's End Merlot 2020, Ridgeback Merlot 2020, Vondeling Barrel Selection Merlot 2020, and Zorgvliet Merlot 2020.
Shiraz or Syrah?
Although International Shiraz Day is celebrated on 16 February, South Africans celebrate the #ProudlySouthAfrican National Shiraz Day on 21 August.
Edmund Terblanche, chairman of Shiraz SA and cellarmaster at La Motte, says the international date was chosen for the northern hemisphere's winter – high summer here, when Shiraz doesn't taste its best when it is 40 degrees outside. "August is the perfect time for Shiraz and that's why we decided in 2021 to start celebrating our own national day."
At first it was believed that Shiraz had its origins in ancient Persia (modern-day Iran) in the town of Shiraz. Other folk tales said that it was brought from the Middle East to Marseilles, France in about 560 BC. They appear to be nothing but romantic stories, because in the late 90s it was proven that Shiraz originated in France.
DNA testing showed that Shiraz is a cross between two obscure French varieties, Dureza and Mondeuse Blanche. The former is native to the Ardéche and the latter to the Savoy.
Edmund says it is unknown how Shiraz landed in South Africa. It is just known that Australian cuttings were planted at Groot Constantia in the 1890s.
Over the years there have been many versions about the origin of Shiraz or Syrah. Shiraz SA does not have the slogan for nothing: "I say Syrah: You say Shiraz."
Many wine lovers are still confused about the difference – or not – between Syrah and Shiraz. It's the same grape, but the way the wine is made makes the difference, Edmund explains. Traditionally, France and America use the term Syrah, and Australia and South Africa use the term Shiraz. Winemakers use the term Syrah to give their wine a more classic Old-World connotation.
Although Shiraz was already made in the thirties, it was sweet wine. In 1943, a young couple bought the derelict Bellingham wine farm in Franschhoek. Bernard and Fredagh Podlashuk restored the manor house dating from 1693, planted vineyards, and bottled the first single cultivar Shiraz in 1956.
Groot Constantia follows in 1963 and Klawer Wine Cellars in 1965.
Names to look out for
The Top 12 Shiraz of 2022 are: Bon Courage Inkará Shiraz 2020, Fuselage Side Slip Shiraz 2021, Cederberg Shiraz 2020, Diemersdal Shiraz 2021, De Grendel Op die Berg Shiraz 2020, Stellenbosch Reserve Syrah 2020, Saronsberg Shiraz 2020, Groot Phesantekraal Syrah 2021, KWV Cathedral Cellar Shiraz 2019, Driehoek Syrah 2020, Swartland Bush Vine Syrah 2020, and Bellingham The Bernard Series Basket Press Syrah 2019.
The results of the Shiraz SA Challenge 2023 will be announced on 17 August 2023, so keep an eye out.
Pinotage
International Pinotage Day is celebrated on 8 October and in 2025 this uniquely South African cultivar celebrates its 100th birthday. In 1925, Professor Abraham Izak Perold, the first professor of Viticulture and Oenology at Stellenbosch University, crossed a grape cultivar that is unique to South Africa and would grow well here. He crossed Pinot Noir with Hermitage (today known as Cinsaut) and planted four vines in his backyard in Stellenbosch.
However, he died in 1941 before he could taste wine from these grapes. Prof. Charl Theron, a lecturer at Elsenburg Agricultural College and winemaker CT de Waal, planted more vines and CT makes the first barrel of Pinotage in 1941. The rest, as they say, is history.
Several pioneers have played a part to elevate the grape over the years, but it was Beyers Truter, the current chairman of the Pinotage Association, who put this grape variety on the international podium, when in 1991 he won the Robert Mondavi Trophy at the International Wine and Spirits Competition (IWSC) for the Best Winemaker in the World. It was his Kanonkop Pinotage 1989 that convinced the judges that Beyers and Pinotage are worthy winners. Today he owns Beyerskloof, also one of the country's leading Pinotage producers, and his son, Anri, makes wine there too.
The Absa Top 10 Pinotage Awards were established in 1997 to honour the best wines – single-cultivar, blends and Rosé – made from Pinotage grapes, which can be presented as an example of this grape.
Some winners to look out for on wine shelves
The winners of the Absa Top 10 Pinotage 2022 were: Beeslaar Pinotage 2020, Beyerskloof Winemakers Reserve Pinotage 2018, Flagstone Writer's Block Pinotage 2020, Kanonkop Pinotage 2019, Neil Ellis Bottelary Hills Pinotage 2018, Brink Family Vineyards Pinotage 2019, Rijk's Reserve Pinotage 2016, Simonsig Redhill Pinotage 2019, Vondeling Bowwood Pinotage 2019, and Windmeul Reserve Pinotage 2019.
For a real treat, visit the Mombergs of Middelvlei, where a wine carafe belonging to Dr Perold was gifted to the family by his late wife, "because they are Pinotage people". The farm has been in the Momberg family since 2019 and the Middelvlei Pinotage 1972 was the farm's first bottling of Pinotage. Oom Stiljan Momberg, a wine pioneer in his own right, bottled it in the cellar under his house as a special treat for the family. Middelvlei is also known for their award-winning Cabernet Sauvignons.
Cabernet Sauvignon
Cabernet Sauvignon is certainly one of the world's favourite red wine grape varieties. It is grown in nearly every major wine producing country and is celebrated with International Cabernet Sauvignon Day on 31 August.
According to Johan Jordaan, chairman of Cabernet Sauvignon South Africa and cellarmaster of Spier, the classic profile of Cabernet Sauvignon tends to be full-bodied wines with high tannins and noticeable acidity that contributes to the wine's aging potential. Its popularity is often attributed to its ease of cultivation – thick skins and hardy vines, naturally low yielding and resistant to viticultural nightmares such as rot and insects.
Former Vergelegen cellarmaster André Van Rensburg says that Stellenbosch ranks among the world's best Cabernet producing areas. He adds that our Cabernets are sometimes closer to Napa than one would like to believe, very close to Western Australia and dead ringers for aged Bordeaux. Our Cabernets always retain a slight herbal note that does disappear with ageing.
"The taste in the glass; bright red and black fruits, spices and the tannins were absolutely designed for food," André says.
The Stellenbosch wine farm Rust en Vrede has been part of the wine industry since 1694. The estate is headed up by Jean Engelbrecht and his family has specialised in producing only red wine with the focus on Shiraz, Cabernet, and Merlot. The underground cellar was the first of its kind for a privately owned South African winery.
Jean says, "Stellenbosch Cabernets offer a balance between the ripe, intense fruit of the new world, with the structure and fresh acidity of the old world."
"Cabernet Sauvignon is a variety that expresses its origin and is most consistently of high intensity of the variety, while learning about how it differs in style when made in different parts of the world."
Cabernet Collective
Stellenbosch is also known for the establishment of the Stellenbosch Cabernet Collective, producers to whom quality is paramount. The collective aims to see this region's Cabernets perform on a global platform.
The collective was established in 2018 and consists of 29 producers for whom the legacy of their ancestors lives on. Says Christo le Riche, chairman of the collective: "We are the story tellers, the curators of Earth's expression. We are the custodians of the oldest soils known to man and aim to shatter perceptions and daring to be bold. We are innovative craftsmen, artists of oenology and masters of agronomy. We are Stellenbosch Cabernet."
The aspirational nature of the brand is portrayed through a precedent of inclusivity for all members of the Stellenbosch Wine Routes, whilst upholding a strict standard of only the highest quality, achieved through a series of peer reviews. This standard ensures that the champion producers in the region are identified and that their bold, unique Cabernets are put forward for the world to taste and appreciate.